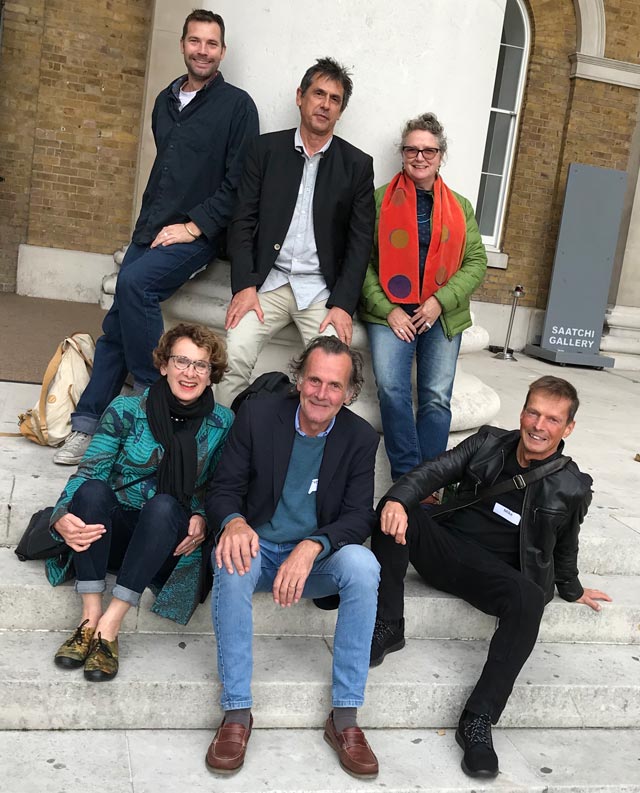 Project Director
Judy Parkinson
Judy Parkinson is the driving force behind Drawing Life, the project she established with lottery funding in 2015. Since then Drawing Life has brought over 200 classes to people in care homes, to Jerwood and De La Warr Pavilion galleries and exhibited selected works in public spaces. She has studied architecture, fine art and the humanities at degree level. She has produced television documentaries and she is the author of biographies and history books. Judy has a special interest in art and memory both as an artist and author. She has spent many an hour at life drawing classes and wrote the best selling book about mnemonics "I before E, Except After C, easy ways to remember stuff".
Tutors
Robert Sample
Robert Sample is an artist whose paintings explore a world that has strong visual references to earlier masters and styles, yet is rooted in the present, combining dynamic elements of street art with contrasting traditional techniques. He has exhibited in London and Sussex and teaches art at Sussex Coast College, Hastings.
Patrick Altes
Patrick Altes is an artist, born in Algeria, lived in France, South Africa, Ecuador and the UK. His main interests and focus of his artistic processes are in post-colonialism and its enduring effects.
Matthew Radford
Matthew Radford is a painter who has shown widely in Europe and the USA and has work in many collections including The Metropolitan Museum New York, Stanford University and Museum Art+Germany. He has taught at Camberwell School of Art, The New York Studio School and was visiting lecturer at The Slade.
Oska Lappin
Oska Lappin was born on the Pacific North West coast of America and spent the first ten years of her life submerged in the hippy counterculture. Resurfacing, her foremost influences come from comics, punk, Hitchcock and German Expressionism. Oska loves making up stories from the maelstrom of media like quilting information, until by chance, something new emerges.
Sinéid Codd
Sinéid Codd is an artist whose work responds to found objects, time and place. Her mother had dementia for many years. Sinéid was Project Co-ordinator for the ArtsBridge residencies with Paintings in Hospitals (1999 – 2002), in which artists were matched with care homes across London, to work directly with older people and make artworks as a legacy for the PIH Collection. In 2008 she was commissioned by Kensington & Chelsea as Artist in Residence with the Miranda Barry Day Centre for adults with dementia. She devised workshops which enabled participants and staff to re-engage with their own creativity.
Brendan Commane
Inclusive arts practitioner and PhD researcher studying dementia friendly environments in care homes.